Many Paths
MANY PATHS is the company name for the work my client was doing, which spans a variety of things, chiefly yoga, meditation, and corporate wellness. The idea behind the name is that people can follow many different routes in life and that makes life interesting – being open to new ways of thinking about our lives and solving our issues.
Challenge
The client wanted the MANY PATHS logo and brand identity to reflect the ethos of her work. Since her customers are not just individuals, but also corporate clients, and the branding needed to reflect that – they preferred to avoid a very corporation logo or too artistic and hence too flowy or informal.
Solution
The client needed a balanced brand identity that could work well in all her areas of work. After a deep interview with the business owner to get a clear idea of what they wanted, they also filled out a brief document that encapsulated all the key information I needed to start working on this project.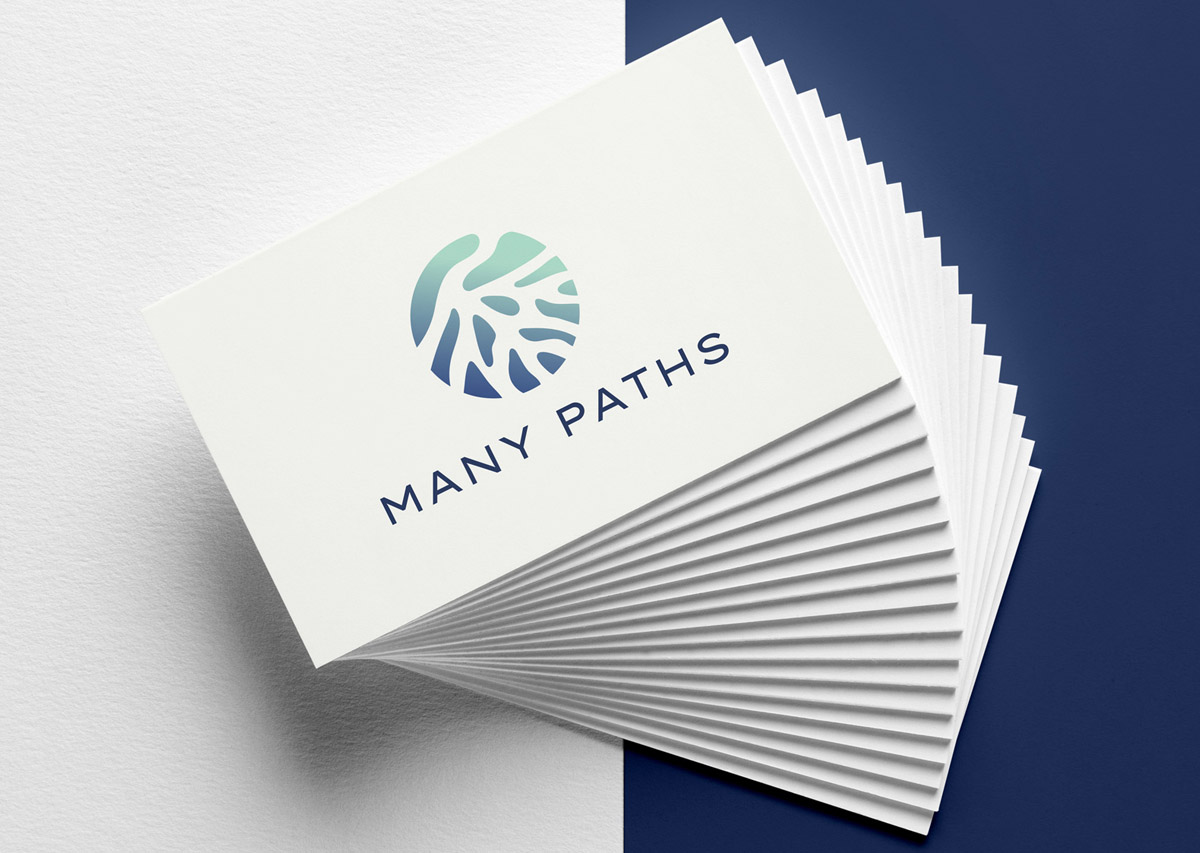 The next step in this personal branding project was to define the words that could represent MANY PATHS as a brand. We set the brand values to guide the design: Health, Calm and Trust. I began with a brainstorming session to come up with the initial ideas and sketches. Then we established the design direction to develop the MANY PATHS' logo.
---
The approach we decided on was based on the design concept "DESTINY" which uses the river delta as a good representation of how different paths could get you to the right destiny. The organic shapes of a river and the adaptability of the water make the design concept just about right for my client.
The roots connection idea was also present but in the minimum essence and it was visually represented in a creative way - MANY PATHS' logo stands out from competitors that use very common shapes in yoga and meditation fields (Tree with roots, the flower of life, etc.)
---
Raha Razin, (MANY PATH's business owner) said: "I had previously worked with Bea in a company where my team briefed her for our design needs, so I already knew she was creative, professional and easy to work with. When it came to setting up my own business, she was a natural choice because I knew she would work with me to create what I wanted. My logo turned out to be a really collaborative process and although I went in thinking I knew exactly how I wanted it to look, Bea asked me probing questions that got to the essence of what I wanted my logo and brand to convey. She came up with a handful of very different concepts in response to my original brief - and I ended up not going for what I had thought I'd want! I absolutely loved the way Bea interpreted the brief. I love telling people the story my logo tells but I personally also love the story of how it came to be: a collaboration that saw my idea brought to life through Bea's eyes. On top of the logo, Bea put together very extensive brand guidelines for me, which I consult often. It's made a huge difference to how professional my brand looks. I could not recommend working with Bea more: it was an absolute pleasure and I look forward to our next project together. "